GUI modules
The SynthEdit modules (SEMs) you can find on this page are GUI related only. All modules that can be found here have been taken from my open source project 'Delphi ASIO & VST'. Feel free to download the original source code and experiment with it.
Keep in mind, that I am not using SynthEdit by myself, but I was curious about how SynthEdit works and what possibilities it offers.
Brushed Metal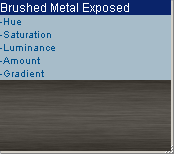 Algorithmicly creates a brushed metal surface.
Download: 7z
Filter Plot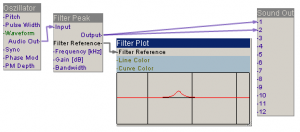 With the filter plot module the frequency response of the basic filters can be visualized using the 'FilterIndex' pin. I will add a 'FilterIndex' pin to some other filter modules in the future.
Download: 7z
GUI FX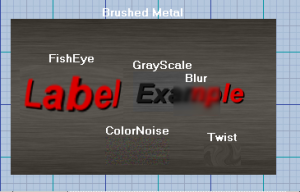 Some GUI effects such as 'Add Color Noise', 'Add Mono Noise', 'Brushed Metal', 'Brushed Metal²', 'Contrast', 'Emboss', 'GrayScale', 'Hue', 'Invert', 'FishEye', 'Lightness', 'Darkness', 'Saturation', 'Split Blur', 'Split Blur²', 'Gaussian Blur', 'Mosaic', 'Twist', 'Splitlight', 'Tile', 'Spotlight', 'Trace'.
Download: 7z
Open GL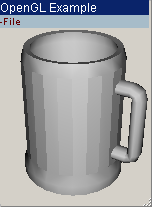 OpenGL viewer, loads any 3D scene from file (3DS, OBJ/OBJF, SMD, MD2, STL, TIN, PLY and many more). Preview and example included in the 7z file.
Download: 7z
Sonogram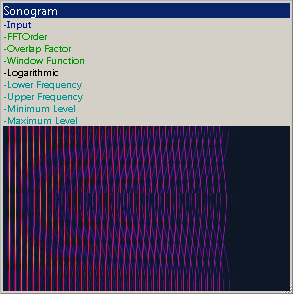 Sonogram module (currently in beta).
Download: 7z
Correlation Meter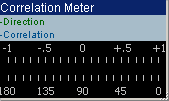 Previously unreleased correlation meter.
Download: 7z